Although unofficial, the three-click rule is written all over the internet. The principle is pretty easy to understand, basically if it takes a user more than three clicks to find what they are looking for they are likely to lose interest — which is the opposite of what you want. For the longest time, this only applied to websites, but with the rising popularity of social media (for nearly two decades) it's essential to look at how it can be applied to individual platforms.
Social Media Managers and freelancers alike have learned to work with the three-click rule by adding a link to a post's copy directing traffic to the landing page of choice. But what happens when you're not able to add a live link to your post? Instagram being the offending party in this case. In comes tools like Linktree and the lesser-known ContactInBio. Both allow users to host multiple links on a single landing page, so no matter the CTA you can just say what could be the most popular phrase on the 'gram — 'Link in bio.' All that said, to really use these tools you need to pay for their premium tiers, which allow users to access analytics and customize their page.
Before we go on, I want to dive a bit deeper into why implementing some type of link landing page is crucial on Instagram. Picture this, your followers are scrolling through their news feed and they come across your awesome post advertising your incredible product, then you ask them to visit your bio so they can hit the link and learn more (or buy something). You just used one click. Next, they have to actually click the link in bio. There goes click two. You have one click left. Use it wisely.
The lesson here is that it's so much easier to have this one user-friendly page with all the links you could ever direct users to, rather than have to update the link in your bio every time you have a new CTA.
You Can Do Better!
If you own your website there is a better way to direct people where you want them in less than the suggested number of clicks. The solution is to make a page on your site that is dedicated to links you want people to discover on a regular basis. The page can be customized and best of all you own the data and can track and monitor your online presence/performance more effectively.
What It Will Look Like: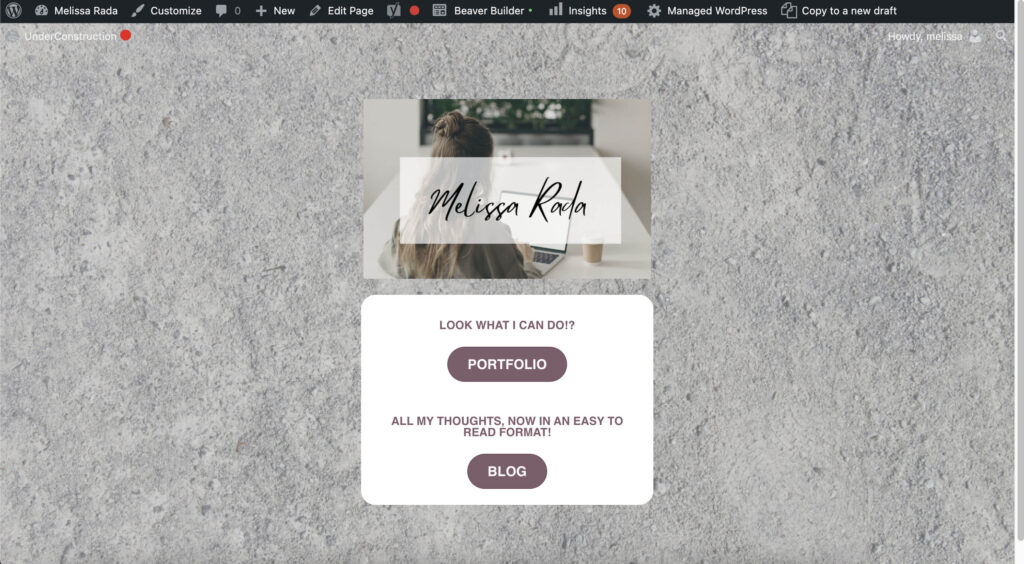 The page can be super simple or complex, up to you! Below are steps to create your own link in bio landing page with Beaver Builder and Divi builder.
STEPS:
Add a new page
On the right-hand side page settings, under page TEMPLATES switch the page to a blank page (this may vary based on theme and builder, the outcome you want is no header or footer)
Save the draft
Access editing on the front end
Beaver Builder:
Add a section/column – customize the background with an image or color
Add modules – Image/logo and buttons
Test the buttons
Publish page
Add page URL to Instagram bio
Divi:
Start page from scratch
Add a row
Add an image module
Find the image you want you to use as a profile from the media library, in most cases this will be a logo
Within the module, settings open the design tab
Change the alignment to center
Under the sizing dropdown switch alignment to center, move the height slider to 200px for desktop, 150 px for tablet, and 100 px for mobile
Save the module
Open the section settings
Under the background, dropdown open the image option (third from the left), add an image that will work as a background
Hover over the logo module until a grey plus symbol appears, click it, and add a button
Open the button settings
Change the text to whatever page you plan on linking to
Under link add the appropriate page link or use the dynamic content setting on the right to choose a page from within the site
Open the design tab
Centre align
Open the button dropdown and choose the custom styles option
Change the text to white and the background to your preference
To add more buttons in the same style, use the duplicate option (box on top of a box), change the text and link
Test the buttons
Publish page
Add page URL to Instagram bio
NOTE: Both methods work and look best if you can enable a full-width page. Also, it is recommended to use Yoast SEO to prevent search engines from displaying in search results, along with another plugin to prevent search within the site from displaying the link page.
Don't Have a Website?
If you don't own a website, you're completely out of luck…kidding! Canva has an option for publishing a links page online. I'm not too familiar with that method and recommend doing some research into all the options. Of course, you can also just use Linktree or ContactInBio to get the job done.